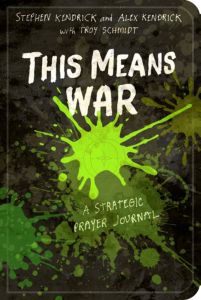 The teen years can be tough; don't try to make it through without one of your most powerful weapons—prayer. A companion book to the movie War Room, this new kind of journal will get you ready for a new kind of prayer life, one that's strong, growing, and reflects just how powerful prayer is. Each short chapter tackles one of the biggest questions teens have about prayer, questions such as:
Why pray, anyway?What should I pray for? Are selfish prayers okay?Who should I pray for? Am I really supposed to pray for my enemies too?Will God listen? And will He answer? Just-right journaling prompts will then get you thinking—and praying—and reinforce the real power of fighting battles on your knees.
Pre-Order at
Alex Kendrick is an ordained minister and New York Times best selling coauthor of The Love Dareand The Resolution for Men. He has spoken in numerous countries to students, families, and men's groups. He is also an accomplished actor, screenwriter, and film director, whose credits include Facing the Giants, Fireproof, and Courageous. He and his wife, Christina, have six children.
Troy Schmidt
has writing and video production credits ranging from assignments with Disney (
The Mickey Mouse Club
) and Nickelodeon to Max Lucado's Hermie franchise. He is currently the lead writer for
The American Bible Challenge
hosted by Jeff Foxworthy on the Game Show Network. Troy and his wife have three sons.
I was blessed with this book in exchange for an honest review.
My Thoughts:
This is such a great journal/devotional for teens! It speaks their language - tweets, texts, social media status. Stephen and Alex do a great job of bringing this book to a teens level. This book talks on a military level - Boot Camp, Arsenal, Basic Training, Advanced Training, Sniper School and a Journal at the end. Each devotional includes questions and spaces to journal along the way. The authors give alot of food for thought and then require the teens to think!!
For example: "The Enemy - after a brief explanation on the enemy and his strategy there are questions such as: ANALYZE Satan's strategy to stop you from praying. How does he do that in your life? What are the things that DISTRACT you? What are the things that DECEIVE you? What are the things that DIVIDE you (from God, Family, Church)?"
After each of these questions is a space to write out their thoughts. Then a GO TO WAR - "Pray that God will show you the ways Satan keeps you from prayer. Pray against all the distractions, deceptions, and divisions invading your life."
This is the pattern all through the book. The last chapter - SNIPER SCHOOL is a specific, strategic, and strenuous approach to prayer! It hits every angle you can think of your teen needs to be praying about in their lives, as well as including their friends, future, family, school, country and so much more.
This is a book you don't want to miss getting for your teen! Our country and communities need prayer warriors and it is our job to build them up and encourage them!! This book was inspired by the feature film War Room releasing this month (August 2015).
*****GIVEAWAY*****
TO ENTER:
Leave a comment on this post about what battles you think teens may be facing in their daily lives.
Be sure to leave an email as a way to contact you if you are the winner.
FOR EXTRA ENTRIES:
Follow my blog by any of the methods in the sidebar on the left or visit my Facebook Page.
You could also visit the WAR ROOM Facebook Page and encourage those who were involved in the making of this movie.
Giveaway open to US residents ONLY. Must be 18 or older to enter.
Seasons of Opportunities is not responsible for distribution of prize.
Prize consists of one copy of
This Means War
awarded by
Icon Media Group. Giveaway ends
September 14th.
Winner will be selected Sept 15 and notified via email.
Winner has 48 hours to respond
or another winner will be chosen
.