During the past few weeks, the Holy Spirit has really been convicting me concerning my prayer life. Oh... I pray! But sometimes it seems like carving out time for prayer is difficult. It is easier to "
pray without ceasing
" and that is Biblical right? But so is going into your closet to pray....
Over the years I have tried multiple tools, prayer journals, read books, etc... to help me get on track with my prayer life. And I guess, its been kind of like a roller coaster with ups and downs, twists and turns, depending on the season I am in.
But in today's world, can a person survive without a constant and steady prayer life?
It is easy to get depressed, discouraged, and at times even losing hope. There are battles everywhere - in the home, out of the home, and all around. I want to be a Woman of Prayer! I want to approach the Throne of God boldly, and ask knowing I will receive what God has for me. There may be so many blessings, I am forfeiting simply because I am not praying. There may be battles lost, because I am not at the forefront bringing the matter to God in prayer, or because I give up too soon. God says, "
ask and you shall receive
"
and "

ye have not, because ye ask not.
Ye ask, and receive not, because ye ask amiss."
Just today, as I was reading my Bible and journaling and struggling with a problem that seems to be escalating, I felt God speaking to me about prayer. One of the verses I read was II Cor. 10:4
"The weapons we fight with are not the weapons of the world. On the contrary, they have divine power to demolish strongholds."
This is a very familiar verse to me, yet today, I was reading it in a different translation and Boy! Did it stand out! My weapon at the moment needs to be prayer! It is all I need, and really all I have. It is the only thing that can resolve the situation I am in.
A few hours later, UPS brought a package. I was a bit surprised because I
wasn't
really expecting anything, but what came was sooo exciting! It was like God was affirming what I felt like the Holy Spirit has been saying.
And this is what was in it!!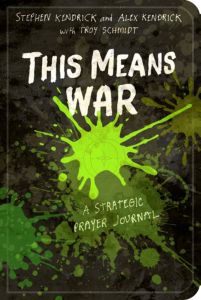 I just can't tell you how excited I am. Along with these to review this month I also have a copy of the new book War Room. All these books kind of go together and the theme - PRAYER! So friends, I can't wait to read them and share them with you.