A devoted, devilish enemy seeks to wreak havoc on everything that matters to you: your heart, your mind, your marriage, your children, your relationships, your resilience, your dreams, your destiny. But his battle plan depends on catching you unaware and unarmed. If you're tired of being pushed around and caught with your guard down, this study is for you.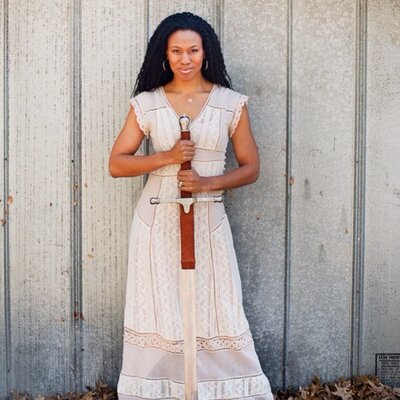 About the Author:
Priscilla Shirer
is a Bible teacher and conference speaker with a Master's degree in Biblical Studies from Dallas Theological Seminary. She is also the author of popular books including A Jewel in His Crown, He Speaks to Me, Discerning the Voice of God, and One in a Million. The daughter of author Dr. Tony Evans, Priscilla is married to Jerry with whom she founded Going Beyond Ministries. They have three sons and live in Dallas, Texas.
I received this book from B&H Blogging Group and Lifeway in exchange for my honest opinion.
My Thoughts:
This is a much needed Bible study! If you want a closer walk with God and a chance to win the battle you fight with the enemy daily, you need to be prepared. Priscilla will help you do that with this study.
She begins with an Introduction to the study. And then each week has a starting point with a video and some questions to answer. It continues with a daily in depth study including Scripture reading and questions. I did not have the video, so it was difficult to answer the weekly introduction questions, but the video lessons are available through Lifeway for personal or group studies. There are six weeks of lessons, and each week has five days to work through, following the introduction. After week one's "Sizing up the Enemy", each week is about a part of the armor necessary to defeat our enemy.
Week two - The Belt of Truth,
Week three - The Breastplate of Righteousness,
Week four - The Shoes of Peace,
Week five - The Shield of Faith,
Week six - The Helmet of Salvation.
There are also five Digging Deeper sections. Session seven ties it all up with the Sword of the Spirit. There is also a Leader Guide in the back as well as Prayer Strategies and cards to use with your prayers.
This book is certainly a wonderful tool for growing in the Word. It can be used for personal Bible study at home or maybe a small group study or even a larger group. The videos would be helpful for each weeks introductions especially if you decide to use this as a group study. Through this study of Ephesians 6:10-19, Priscilla is helping us learn how to put on and use the armor of God, as well as, pray! Her goal is for us to really pray, not just talk about it, or think about it, but do it!! I would recommend this study to anyone who wants to grow spiritually, but be ready, then enemy is not going to give up easily. You can be victorious though, because "greater is He that is in you."