The battle is real
.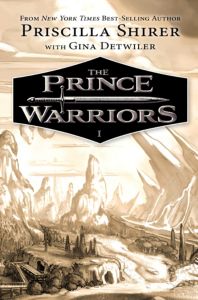 As brothers, Xavier and Evan are used to battling each other. But now they're discovering that there is a much bigger battle going on all around them. And it's their turn to fight. Based on Ephesians
6:10
–18, The Prince Warriors is the first book in Priscilla Shirer's epic new children's series that brings to life the invisible struggle ensuing in the spiritual realm. Xavier, Evan, and their friends have typical lives until they enter a mysterious land called Ahoratos. There they meet their guide, Ruwach, who offers wisdom and direction as the kids' initial adventure begins—an adventure filled with armor and danger and a very real enemy.
Written by
New York Times
Best-Selling author Priscilla Shirer, The Prince Warriors series was created for middle-grade readers and will include the fiction trilogy as well as the
365 Prince Warriors Devotional
and app.
Available on
Lifeway
and
Amazon
as well as other retailers.
Don't miss the
Prince Warriors Website
About the Author:
Priscilla Shirer
is a Bible teacher and conference speaker with a Master's degree in Biblical Studies from Dallas Theological Seminary. She is also the author of popular books including A Jewel in His Crown, He Speaks to Me, Discerning the Voice of God, and One in a Million. The daughter of author Dr. Tony Evans, Priscilla is married to Jerry with whom she founded Going Beyond Ministries. They have three sons and live in Dallas, Texas.
My Take:
I haven't yet read this book, but I did let my son who is eleven read it. He was so excited from the very first chapter. He finished it in two to three days and was eagerly asking when the next book in the series was coming out. He was quite saddened to know it wouldn't be until fall. He also was ready to look up the website for the PrinceWarriors book and read all the information available which includes secret insights and other awesome things.
He proceeded to give me a chapter by chapter breakdown of the story when I asked him to summarize the book for him, so I cannot include that here or it would be and extremely long review. What I can share is that he said this was the "best book he has read so far" and he reads alot! He did share that the book was about some kids that think they live in the real world only to find out their world is just another reality and they have a chance to actually experience the real world. He told me there are things in the book that have spiritual connections to the Bible. He was able to discern those points of interest. He also loved the armor. He kept saying he wanted one like that!
So as you can see the book is a huge hit!! And we are breathlessly (oh yeah not breathlessly, pending passing out) awaiting the next book. I cannot wait to read it myself as he has now totally peaked my curiosity! Knowing what I know about Priscilla Shirer and her books (some of which I have read myself) I am sure this is one book you could not go wrong getting.
I was blessed with this book by B&H Publishing Group in exchange for my honest opinion.