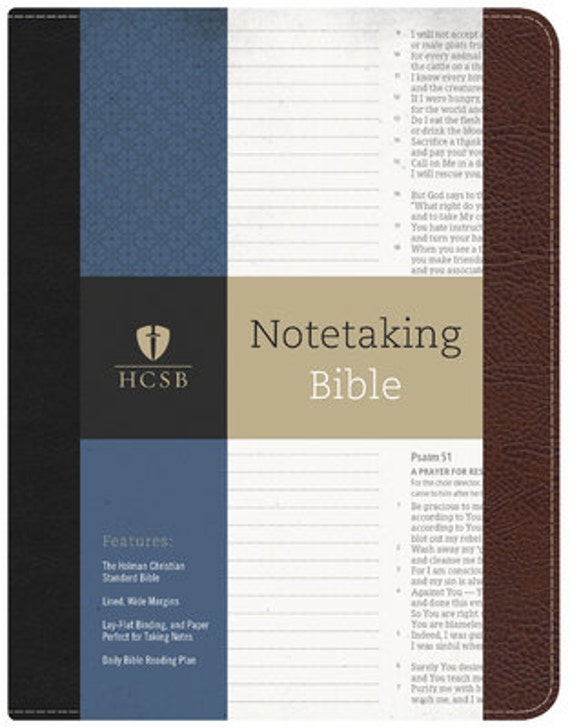 The
Note-Taking Bible
contains the full text of the Holman Christian Standard Bible in a single-column setting. Abundant space is provided on each page to make observations, record insights, raise questions, and suggest to yourself additional exploration of the text. The Bible includes a 40-page concordance, eight four-color maps, a one-year Bible reading plan, presentation page, and an introduction to the Holman Christian Standard Bible.
Available through
B&H Publishing
and other online retailers.
I am really excited about this Bible, especially since I am a note-taker. Just about all my Bibles have notes written in the margins. This Bible allows plenty of room on the side columns to write your thoughts, references, etc. I even saw a couple of pictures where people drew illustrations in the side bars. Awesome idea! And personally, I think I will like this version of the Bible.
This Bible would be great to take to church, or just do Bible studies out of. It also contains some great reference tools in the back such as maps, a concordance, a Bible reading plan and a dictionary of sorts. Two small negatives would be the fact that the font is a little on the small side, but I can handle that. And the words of Jesus are also not in red, which I am kind of used to, but that may even make me pay a bit more attention to who said what since it is not spelled out for me.
Overall, I like this Bible. I am going to enjoy using it as I am in need of a Bible at the moment. I was blessed with a copy of this Bible by B&H Publishing in exchange for my honest opinion. I was not required to give a positive review.